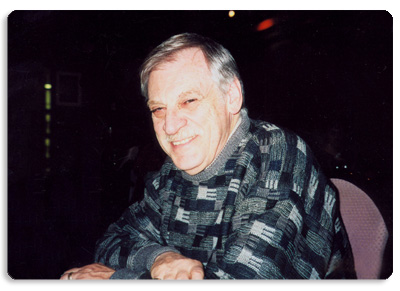 Many of you may be wondering "where the money goes", how much we give and how we determine both of the above. As mentioned throughout this site, in recent years I have personally lost three very important people in my life to different types of cancer. Having seen first hand how many people suffer from this disease and just how desperately more funding is required for cancer research, one of our main goals and focuses when deciding to create Rainbow of Hope Inc. was to donate as much money as feasibly possible to cancer research and related programs/services.
We have set up a memorial fund in my father's name. At the present time, we donate approximately 10% of our total retail sales (before expenses) to leading cancer research institutions. Proceeds obtained through the sale of Rainbow of Hope Inc. merchandise will be tallied and deposited into the Alan Ockrant Memorial Fund on a monthly basis. Since we are just beginning our venture, these funds along with all donations made directly into the fund will be allowed to accumulate for a 6 month period and will then distributed twice annually to the facilities that have been determined as recipients by Rainbow of Hope Inc. Our intentions are to increase our business and productivity and eventually be able to make monthly donations. At this time we will be donating 10% of all proceeds (not profits!) obtained through retail sales to charity. We plan to increase these numbers as our business continues to grow. Due to the nature of the business, we want to ensure that all money donated will go to benefit general cancer research, programs/services.
Whenever you are making a purchase of a cancer related item, we urge you to ask "Do you donate a portion of the proceeds"? If not, find someone who does… The 3 main goals of Rainbow of Hope are to raise awareness of all cancers affecting our society, to increase support for patients and their families and most of all to raise as much money as possible for cancer research and related programs/services. We look forward to the day that a cure is found. By purchasing products through Rainbow of Hope Inc. today, you will have helped keep hope alive that one day our dreams of having a cancer free society will come true!
As with every new business, we are currently incurring high costs and expenses in order to help make our business a success. We will continue to add additional research facilities to our list as we are able to increase our donations. We would like each recipient to focus their attention on general cancer research or other programs/services that benefit cancer patients and their families. If you know of such an organization that you think we should consider as a charitable benefactor, please write to info@rainbowofhopecanada.ca
Listed below are the current facilities that are recipients of our charitable donations.
The Canadian Cancer Society
Princess Margaret Hospital
Once again, thank you for your business. Every time you make a purchase through Rainbow of Hope Inc., you have given the gift of hope and helped make a difference! For every life that is saved, extended or for every diagnosis that has a happy ending, we will have succeeded in taking back from cancer, what it has taken from so many,…life!
Thank You,
Lori